At J & J Sweeping we work constantly to learn more, so we can pass along the latest methods and quality levels of service to our customers. We are proud to be a Member of the World Sweeping Association's Ethics in Power Sweeping Program.

Our involvement with this industry-leading ethics program is designed to provide you with peace of mind when you work with our company. Often, sweeping companies are on client properties when the businesses are closed and you want to make sure you are working with an ethical firm. We invite you to use the link shown below to download our PDF handout that tells about it.

Our membership in the World Sweeping Association also provides us with many cost-saving and educational benefits. If you'd like to know more, choose the link shown to download that information in PDF format.
You can count on J & J Sweeping to provide a high level of service, ethics and accountability to you in each and every interaction we have with you. Our goal is to exceed your expectations in every way possible.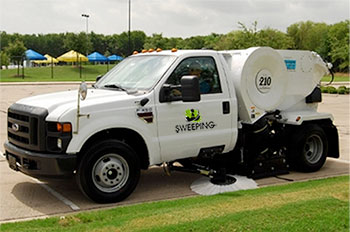 We sweep with environmentally-friendly sweepers.

Our sweepers are the foundation of our ability to provide our customers with efficient, cost-effective service on an ongoing basis. We utilize machines with the features needed for bringing you good results, no matter what type of pavement cleaning you require.
No matter how large or small your needs, our trained professionals are eager to do the best job possible. We are a hands-on, family business with a good old-fashioned, hard work ethic that gets the job done right.
We offer rapid customer response.
When our customers have a special cleanup need, due to an accident, spill, etc., we provide a quick response to minimize any impact on your business or customers.
Our trained employees make sure your property shines.

With today's competitive business climate, it's more important than ever to keep the exterior of your property neat, clean and inviting. In addition to keeping your paved areas swept, the J & J Sweeping team will make sure debris is kept out of your landscaping, parking bumpers, sidewalk areas, etc.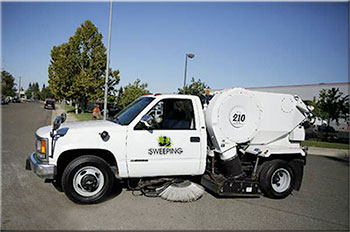 We provide our customers with a variety of customized, total service packages.

Whether your apartment needs sweeping once a month, or you manage a high-traffic mall that requires periodic updates throughout the day, J & J Sweeping can work with you to develop a program that fits your needs and your budget. You'll find that our professional level of services also creates a safer, more inviting environment for your clients.
Our proven expertise and experience can be tailored to fit your requirements for any type of parking area sweeping, whether commercial, retail or residential complexes. By request, we can also handle your special cleaning and maintenance assignments, including trash can liner servicing, graffiti removal, pressure washing and more.
We pledge to provide you with the best possible service.

We are committed to providing our customers with efficient, cost-effective services on an ongoing basis. Whether you need pavement cleaning or one of the other services we offer, we know you'll be satisfied with the final results each and every time.
We spell that out in our Service Excellence PDF handout. Please use the link graphic shown to the right to access that information.
There are many reasons – other than simply cosmetics – to sweep your parking and other paved areas.
To learn more, we invite you to use the graphic link shown to the right to download our PDF handout on this topic.
Please take a look around our website to see more about our company and the quality services we offer. Then, let us know how we might assist you with keeping your property correctly swept and looking great.


You can count on us to provide the timely service you need to keep your property looking its best. We also understand the special needs of 24-hour businesses, where there are no 'off hours.'
---
How may we help?
If you have any questions about our company or the services we offer, please let us know. We look forward to showing our company-wide commitment to service excellence.